Novuna Personal Finance comes up trumps for Customer Service

In January 2022, almost 400 Novuna Personal Finance customers responded to a benchmarking survey conducted by the Institute for Customer Service.
Our customers scored us an impressive 94.0, against an overall UK Customer Satisfaction Index (UKCSI) benchmark of 78.4 and an industry banking and building society UKCSI benchmark of 80.2. The results are a true testament to our on-going commitment of providing outstanding levels of service and fair outcomes for all customers.
Key areas of success called out by the respondents include competency of staff, speed of service and reliability of our products.
Compared against the UKCSI benchmarks for the top priority areas of our customers, including experience, complaints, customer ethos, ethics and emotional connection, Novuna Personal Finance outperformed across the board.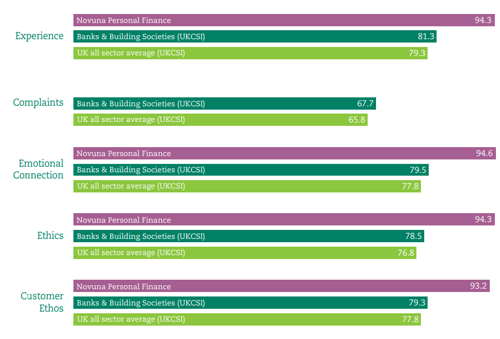 When it comes to our customers recommending our products and services to others, we scored 83.2 on net promoter score, compared with UKCSI benchmarks of 27.5 and 30.4 for general and industry respectively. For repurchase, we scored 9.3 compared to a banking industry UKCSI benchmark of 7.8.
The impressive results come shortly after a rebrand saw Hitachi Personal Finance become Novuna Personal Finance – a new name, derived from the Latin words "Novo" – To Make New and "Una" – Together – which perfectly encapsulates our culture.
We have a very personal approach to lending. We tailor our personal loans to match the things our customers want to buy, from cars to campervans, home improvements to holidays, making the process as easy and stress free as possible. And we combine it with outstanding customer service, as the results above show for themselves.