How to find the right franchise & questions to ask
As with running any business, it takes a certain type of person to succeed in franchising. Do you have the skills required? Think about your strengths and weaknesses, your skills and qualifications, and your personal history.
Questions to ask yourself
Here are some questions to consider for anyone thinking about investing in a franchise business.
Do you have the necessary skills and experience?
Are you willing to work hard?
Are you healthy?
Are you able to make tough decisions?
Are you happy relinquishing direction and control to another party?
Do you have enough money to invest?
Do you have a good credit history?
Are you willing to take full responsibility for the success of your business?
Do you have support from your family and friends?
Choosing the right type of franchise 
Once you've decided that opening a franchise is the right path for you, it's time to find a franchisor to work with. With so many franchise businesses and market sectors to choose from, finding the right one for you can be a time consuming and sometimes overwhelming process.
Franchise markets
The following are some of the main franchising markets, however franchise businesses exist in almost every vertical.
Vehicle services
Gyms and fitness
Store retailing
Hospitality
Printing
Transport services
Property services
Recruitment
Social care
Direct selling
Cleaning
Catering
Building
Franchise types
Whichever market you consider, the following are some of the main types of franchise business available to you.
Management franchise
These types of franchise are suited to people who prefer organisation and planning to customer interaction and are usually the domain of former white collar workers. The franchise owner will focus on the growth and development of the business and will not be heavily involved in the day-to-day operational tasks.
Retail and fast food
In this set-up franchise owners will be involved in the day-to-day running of the business while also employing staff to assist them. In time it is common for franchisees in retail and fast food to expand their business to encompass several outlets.
'Van' or 'job' franchises
Typically this will be a low-investment franchise owned by one person. There will usually be minimal equipment and stock involved and often a vehicle will be necessary. The options available in this category are truly diverse and can encompass everything from coffee vans and gardening outfits to mobile phone repair shops and real estate businesses.
Investment franchises
These are usually higher cost investments such as larger restaurants and hotels. In these cases the investor will normally engage their own team, or sometimes the franchisor, to conduct the day-to-day running of the business. The investor will chiefly be looking for a return on investment and capital gain on exit.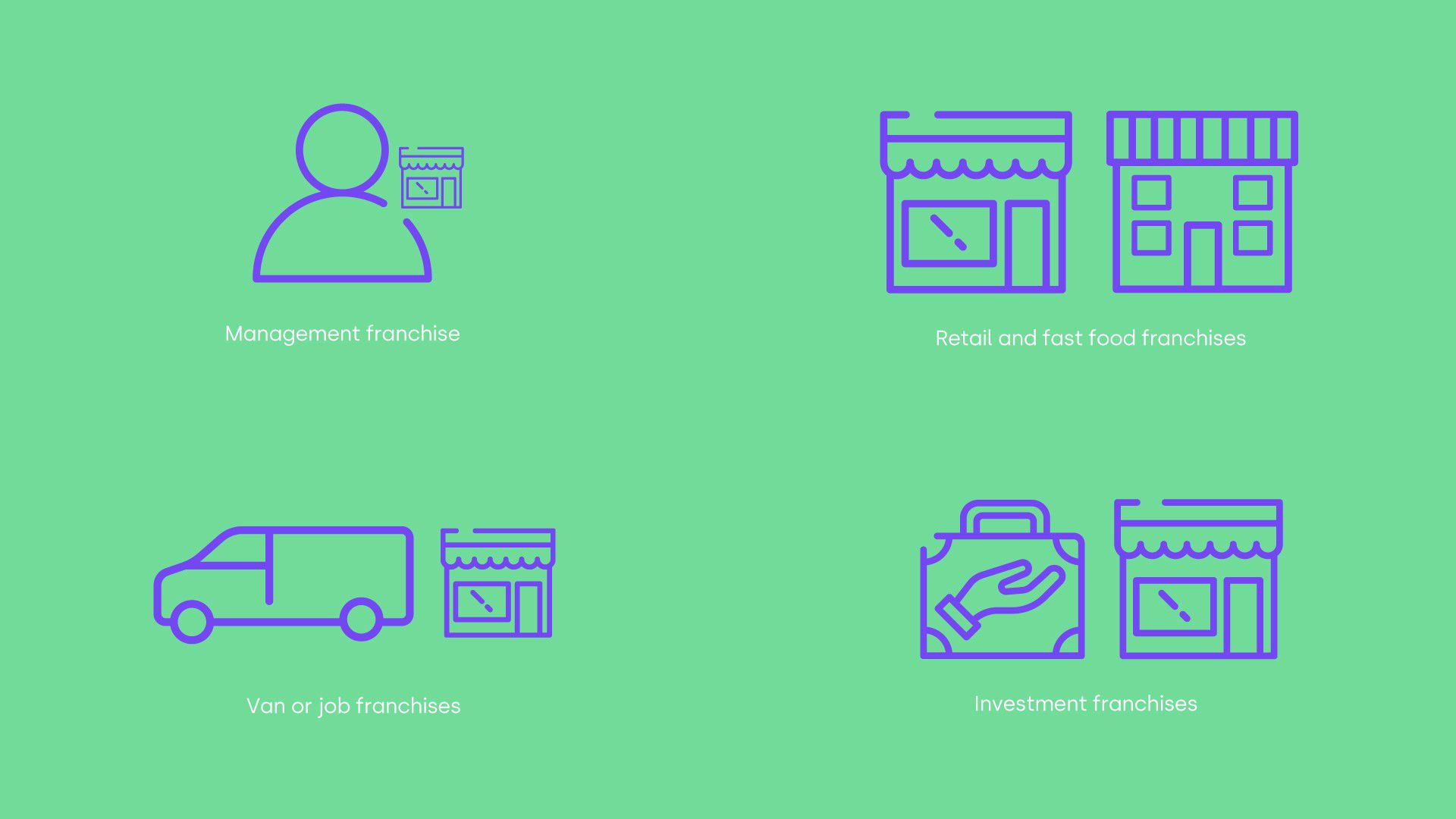 Questions to ask others
It is important that you take your time with this process and avoid any unnecessary pressure from franchisors to sign up quickly to avoid missing out. Here are some questions to ask other parties which will help you manoeuvre this process. And remember, before entering into any franchise agreement, make sure you are happy with your research.
Franchisor
Finance
How much does the franchise cost and what does this include? Is it cheaper or more expensive than other franchises on the market?
Is the franchisor's business system financially viable? Ask for audited accounts and discuss the data with an accountant.
Are there any minimum performance requirements? Do you need to hit a certain turnover and if so what will happen if you don't?
Are you required to purchase a minimum amount of stock?
What is there in terms of financial projections? Are any projections accurate - consider speaking to existing franchisees.
What are the recurring fees? What royalties do you need to pay on a monthly basis?
Market 
Is there enough demand for the product or service? Have you conducted market research?
Who will your competitors be and how will your offering compare? Will you be able to compete on price or quality?
Is demand for your product likely to fluctuate over time? Is there long-term potential? Are there periods of the year where demand increases or decreases?
Does demand vary between different locations? You will need to check whether the franchisor operates in specific territories.
Other franchisees 
Ensure you find out how many other franchisees are currently operating in the network. Get the franchisor to provide you with details so you can speak to other business owners and get a better understanding of what's ahead of you. Consider asking them the following questions:
How accurate were your initial projects in terms of turnover, profit, etc?
How long did it take you to break even?
Did you run into any unexpected fees?
How regularly do you receive support from the franchisor and has it been helpful? How often do they visit you?
Are your supplies provided promptly and to high enough standards?
How useful were the training and operational manuals provided?
Did your grand opening and initial training all go smoothly? Did you experience any hiccups?
Other questions
What is the duration of your franchise agreement and are you able to renew it?
Are you permitted to sell the business? If so, what conditions will you be subject to?
What success rate have current/previous franchisees experienced? For those that have failed, why have they failed?
What is provided by the franchisor in the way of franchise training and support - both initially and ongoing? This will be vital to your success.
---