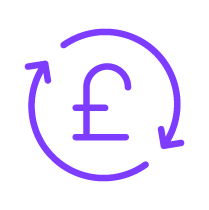 Buy Now Pay Later finance solutions
With Buy Now Pay Later, your customer can enjoy their new product now and pay for it later.
It really is that simple. Your customers can buy a product today and not pay a penny towards it for up to a year later. Once the deferral period has ended, customers will then be able to spread the cost of their purchase by making a series of equal monthly repayments over a set period.
Our buy now pay later finance at a glance
Repayment terms available up to 120 months

Finance offered on purchases from £250 to £25,000, with zero deposit options available

Ideal for generating sales during demanding financial periods such as Christmas or Black Friday
Our buy now pay later product is fully regulated by the FCA

Deferral terms of between 1 and 12 months

Customers can settle their agreement for just £29 during the deferral period, no need to pay any additional interest

Customers can make overpayments at any point during the loan term
The benefits of offering buy now pay later to your customers
Encourage customers to buy
Buy now pay later gives customers instant gratification, so they're much more likely to make a quick purchasing decision
Avoid impact to your cash flow
Your customers will walk away with a product and pay for it later, but you'll get paid in full straightaway so there's no disruption to your cash flow.
Attract more customers
Both new and existing customers want brands to truly understand them and their needs. Promoting flexible payment options is a great way to do just that.
Be heard amongst the noise
Retailers are fighting to be heard during key sales periods such as Christmas and Black Friday. Buy now pay later gives customers yet another reason to choose you.
Avoid abandoned baskets
Making a major purchase can leave a big dent in a customer's bank balance. Give them the option to enjoy their product now and pay for it later, and they'll be far more likely to checkout with confidence.
Increase your audience base
Not everyone who wants to buy from you will have the cash ready to go. You could open up your business to a whole new audience by making your products and services more accessible.
Choosing the right buy now pay later provider
Protect your customers by only working with a regulated finance provider. The term 'buy now pay later' is too often associated with unregulated, unethical lending. But rest assured that our buy now pay later product is fully FCA regulated, ensuring your customers are treated fairly.
Our buy now pay later finance is most suitable for large purchases, such as home improvements or electricals. It gives customers an opportunity to buy what they want now and defer payment. The deferred period is usually months or up to a whole year. This offers a more structured way to pay, compared to unregulated buy now pay later products in which the cost of a product is split into a smaller chunks to be paid over a short amount of time.
When your customers apply for our buy now pay later finance, we'll carry out full affordability and credit checks to make sure credit is only offered to customers who are likely to be able to afford the repayments. Though a hard credit check will need to be conducted at the point of application, we do offer soft search functionality so your customers can check their eligibility before applying.
What to expect from us
Quick and simple set up – at no extra cost
Expert support for both your team and your customers
Bespoke tailoring options to help increase accept rates
Max loan technology to improve upsell opportunities
Soft search functionality
No risk to your business – we're responsible for collecting repayments
An application platform that integrates seamlessly with your POS system
Quick and easy application that can be completed in-store, online or wherever suits your customers
Upfront and honest communication, including transparency on pricing and accept rates
Interested in becoming a retail finance partner?
If you would like to enquire about becoming a retail partner, please complete the short form, and one of our team will be back to you within three business days.
You will need to confirm you can meet all of the following criteria:
Minimum of £2,000,000 in annual sales turnover
A minimum of 2 years trading history
Be trading profitably
A minimum net worth of £25,000, unless your business is within the Home Improvements market then a minimum of £100,000 will be required
The products you offer are for consumers and NOT for businesses
Retail Partner helpline
If you are an existing retail partner with a general enquiry, please call our Retail Helpline:
Retail Helpline opening hours:
08:45 - 18:00 Monday to Friday
08:45 - 18:00 Saturday
10:00 - 18:00 Sunday


Customer helpline
If you're a customer looking to speak to someone about your existing retail finance or personal loan agreement, call our Customer Helpline:
Customer Helpline opening hours:
09:00 - 18:00 Monday to Friday
Closed Weekends & Bank Holidays