Preparing your franchise business plan
Creating a franchise business plan is a pivotal step on the road to becoming a franchise. As well as helping you to crystalise your business ideas and objectives, a clearly defined business plan will act as a 'sales document' for your business and help you secure the franchise funding needed to realise your ambition.
Business planning is also essential for existing franchise businesses that are looking to expand. Whatever the context, a business plan should act as a roadmap navigating you on a journey to your ultimate destination. While taking a step into the unknown is always daunting, business planning can help provide you with the best chance of success.
Your business plan should be clear, concise and well organised into logical sections. While it doesn't need to be of Tolstoyan proportions, the document should carry enough detail to instill a lender with confidence that your venture will reach profitability in an appropriate timescale. This is where opening a franchise business has an advantage over launching an independent business as the former will already have a proven business system and track record.
The requisite information for a business plan should be organised into the following sections.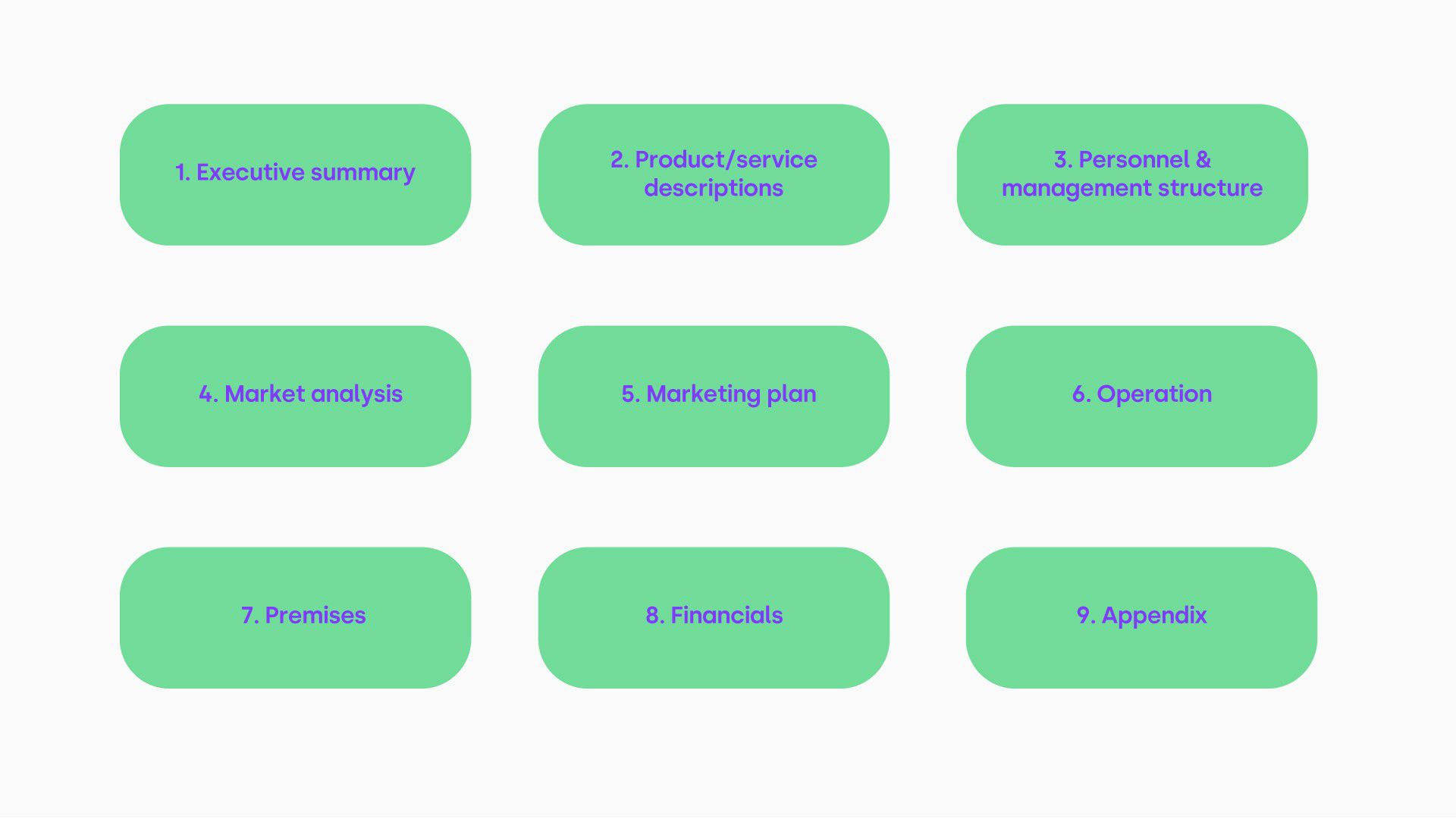 Introduction / executive summary
Introduce your business plan by describing the purpose of your business and laying out your key business objectives.
You should include information on the planned 'legal status' of the business. Bear in mind that a franchise is not a legal structure but a business model that can operate under a sole trader, partnership, limited company or co-operative. Each structure will have their advantages and disadvantages depending on the type of franchise business you plan on running.
You will also need to provide an overview and history of the franchise you are investing in.
Product or service description
As precisely as possible, describe the products or services that your franchise business will provide. Avoid unnecessary jargon and remember to include any pertinent information on the history of your product or service.
Think closely about your unique selling point or USP; how will you differentiate yourself in a crowded marketplace?
Discuss how your product or service will be able to react to market changes and customer demand.
Personnel and management structure
Who are the people that will help drive your business on a day-to-day basis? Will you be the sole owner or will there be multiple owners?
Summarise your key personnel - their experience, qualifications, personal qualities and reasons for getting involved in your business - and provide detailed information on the proposed management structure. You should also include CVs of key personnel in the appendix section of your business plan.
Consider whether you will be closely involved in the day-to-day management of the business or whether you will take the role of an absentee owner.
Market analysis 
This section is arguably the most important part of your business plan. If your market is not carefully considered then your business will have a much higher chance of failing.
When discussing your market, you need to prove your credibility to lenders and show that your business venture has been carefully considered. Your research should be thorough with no stone left unturned. Reach out to your franchisor for as much detail on the market as they can provide.
Analyse the current market conditions for your product or service and provide qualitative and quantitative findings. How big is the market? What are your key customer personas?
Look closely at the competition and pinpoint your market opportunity. Where does your competitive advantage lay?
If available, consult existing industry research and determine trends and growth opportunities for your chosen market (for example environmental or legislative considerations).
Marketing plan
Your business plan should cover how you plan on getting customers and what success will look like.
As well as providing overarching marketing objectives such as market share and sales volume, this section should detail the advertising channels you will use (such as social media, print, radio, email, etc) along with how you plan on allocating your marketing budget.
Your market positioning should also be considered. Think about how your business will compete in terms of quality, price and image.
Also remember to include any marketing-specific training you will be undertaking. This could include courses provided by the franchisor or any training to be taken on your own volition.
You should also specify any marketing which will be provided centrally by the franchisor and what fees will be associated with this activity.
In addition, any contracts or sales agreements you have already generated should be included in your appendix.
Operation
Your franchisor will likely have a specified operating system that you will need to adhere to. This should be articulated in your business plan as operational efficiency is crucial to your business's profitability. Here you will need to outline how you plan on supplying your product or service. You should include information on:
How materials, labour and supply will be sourced
What resources are needed for your business to operate - what do you need to obtain and what do you already have?
The procedures critical to your operation
Location (taking into account any future growth plans)
Health and safety policies
Premises
Working with your franchisor, you will need to establish the location and type of your business premises. Regardless of the premises, you will need to take into account details such as rent, business rates, insurance, energy bills, planning consent and how they impact your financial projections and growth plans.
Financials
This section should comprise three key elements and will form the nucleus of your plan. Naturally, lenders will pay close attention to your financial projections, specifically details on when any money borrowed is anticipated to be repaid.
Overview
Your financial overview should include:
Profit or loss forecast for the year
How much financing is required and from where (loans, credit, personal savings, etc)
Sales required to break even (the point when your business starts turning a profit) - this should also be shown as a percentage of your total sales
The money you will be taking out of the business (note: a detailed breakdown of your projected income should be included in your appendix)
Profit and loss forecast
In simple terms, this forecast will show your sales income minus all expenditure. If your business has greater sales than expenditure then it will be making a profit, and vice versa.
Ensure you include as much detail as possible and don't forget to take into account all of your overheads and how they have been calculated.
Cash flow forecast
Maintaining positive cash flow will be crucial to your business's survival during its start-up phase. For example, situations where essential materials have to be paid for upfront while payments on invoices are delayed by several months can quickly escalate, leading to financial problems and insolvency.
To anticipate how much cash your business will require to stay afloat, it is important to create a cash flow forecast. This document should detail how much money you expect your business to pay out and receive over a period of time and when said money will leave and enter your bank account.
Appendix 
This is the last section of the business plan in which you should supply any other pertinent information not already shared in the previous section. Are there any other items that will help give your prospective lender a clearer picture of your business case? For example, media clippings, market reports, quotes, financial references can all be attached to the appendix.
Getting help
Many franchisors will provide help with your business plan (the franchise disclosure document or FDD should already contain a wealth of information and many franchisors will also provide a template for you to work with) and there are also third parties, such as professional business plan writers, who specialise in franchise planning to support funding applications.
---