The Franchise Lifecycle
Like many businesses, a franchisee will typically experience four distinct phases during its lifetime: start-up, growth, enterprise and renewal or decline. Although each stage will present its own unique challenges and opportunities to the business owner, there are several trends which are common to all franchisees. This article will help you pinpoint which stage of the franchise lifecycle you're currently in and provide you with some pointers to navigate through.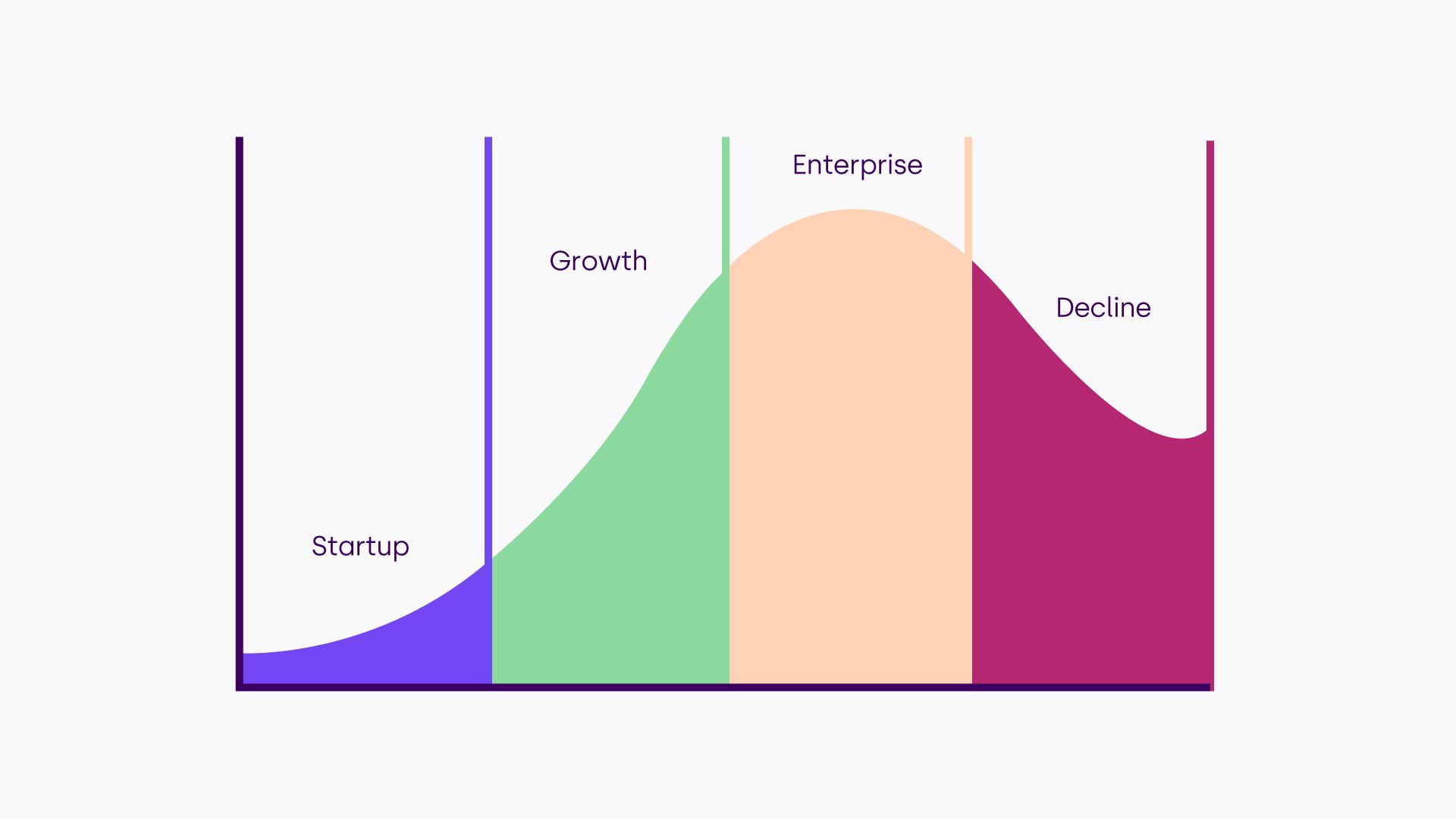 The start-up stage
Although buying into a franchise alleviates a lot of the risk associated with starting a new business, the start-up phase can still be laden with potential pitfalls for the franchisee.
During this early stage, business owners will need to straddle myriad disciplines, from administration and accounting to marketing and human resources. This can be mentally wearing and time-consuming - you'll feel like you're frantically spinning many plates most of the time!
Having lots of capital during this phase is also essential as it typically takes up to three years for start-up businesses to turn a profit. For this reason it is pivotal to ensure cash flow is kept positive and insolvency is prevented.
However, as mentioned, a huge advantage of franchising during the start-up stage is that you'll have access to guidance and support from the franchisor, as well as other franchisees in the network, to steer you in the right direction. Make sure you take advantage of their support as much as possible if you ever feel daunted. You'll also have the benefit of an established brand name and a business system that is proven to be profitable.
Although it can be easy to get discouraged at initial setbacks during the start-up phase, remember that all successful franchise owners will have experienced similar frustrations before achieving success. If they can do it, so can you.
The growth stage
Although it will vary from business to business, most franchises will hit the growth stage around the two year mark. At this point you'll have a steady flow of customers, revenue will be consistent and your personal income will be sustainable. You'll be starting to find things relatively comfortable and will typically start to break even and see a return on your initial investment.
The growth stage will often be a time when you take a step back from the day-to-day running of your business and delegate management responsibilities to your staff. It's imperative to maximise the resources you have at hand as this will enable you to focus on the bigger picture and consider growth opportunities. Is it time to invest in more stock? Do you need to hire more staff to handle demand? Should you invest more into sales and marketing? The answer could be some or all of the above.
When considering growth plans, try to set SMART goals (specific, measurable, achievable, relevant, and time-bound) that provide clear direction on how to achieve your growth objectives. This methodology will give you the structure, focus and motivation to progress the business while preventing any feelings of being overwhelmed.
Although most aspects of your business will become more comfortable in the growth stage, it's still vital that you keep a handle on cash flow. Even for successful business insolvency can quickly become a possibility if unpaid invoices accumulate.
The enterprise/maturity stage
After several years of running your franchise you'll reach the enterprise (or maturity) stage. This is when cash flow is healthy and revenue is high enough to ensure that all costs are covered and you are making a good profit. During the enterprise stage some franchisees will even begin to expand into new units and territories.
It can be easy to become comfortable during the enterprise stage so it's important that you do not fall asleep at the wheel and allow your business to lose touch with its audience base. To ensure continued growth and success, ask yourself the following questions:
What is your competition up to?
Keeping tabs on the competition - and market research in general - should be central to your role as a franchise owner. By doing this regularly you'll discover new approaches and industry trends that will keep you motivated to pursue further growth.
How can you expand?
The maturity phase is the perfect time to introduce new ideas into the business. Is there a new audience that hasn't heard of you? Are there new product lines and services you feel would be lucrative? If so, this is the ideal time to fuel your ambition and expand.
Is it time to sell?
Perhaps you're looking for a new challenge or maybe you just want to realise your investment? Then maybe it's time to cash in. A mature business will undoubtedly attract interest from potential buyers but you will need to carefully consider your exit strategy before jumping the gun. Like so many things in business (and life), the key to a successful exit and getting maximum return on investment is all in the planning.
The renewal or decline stage
All longstanding franchise businesses will inevitably reach the last stage of the franchise lifecycle. How they handle it will define whether they fade away or become an enduring market presence.
There are a number of reasons why a business might experience decline, including:
Increased competition (cheaper/superior products entering the market)
Changes in the industry
Outdated technology
Lack of diversification and expansion
Fall in customer demand
During this stage, the business leadership will need to continually search for new business opportunities and it is common for costs to be cut and budgets tightened to sustain cash flow.
At this juncture, as a franchise owner you will need to ask yourself: is it time to sell or reinvest?
If you decide to continue, having the backing of a franchisor who is up-to-date with market trends will no doubt help. With their guidance there is every chance that you will see continued success.
---