Colas Continues Rollout of New Electric Vehicle Fleet in Partnership with Novuna Vehicle Solutions
Thursday 26th October 2023

26 October 2023: Colas has taken delivery of its first batch of 10 all-electric Skoda Enyaq estate cars as it continues to transition its entire fleet to alternative fuel use in the highway maintenance sector.
Following an agreement involving Colas Ltd and Novuna Vehicle Solutions, the first batch of Skoda Enyaq electric vehicles (EVs) has now been delivered to Colas, a leader in designing, constructing and maintaining the UK's road network. The move supports Colas' ambition to decarbonise its entire fleet achieving Net Zero emissions by 2040, promoting quick and emission free mobility to and from depots and across operating network locations.
The Skoda Enyaq IV 80 150kW Estate cars, which have a range of up to 328 mileswill support Colas' maintenance and response operations for National Highways in Area 9 covering the M6, M42 and M54 and strategic road network within Herefordshire, Worcestershire, Warwickshire, Staffordshire and Shropshire as well as parts of Gloucestershire, Derbyshire and Leicestershire.
The cars supplied by Novuna Vehicle Solutions are equipped with auxiliary battery powered 360-degree LED amber lighting and Chapter 8 side and rear exterior livery, with vehicle conversions undertaken by Bri-Stor Systems Ltd.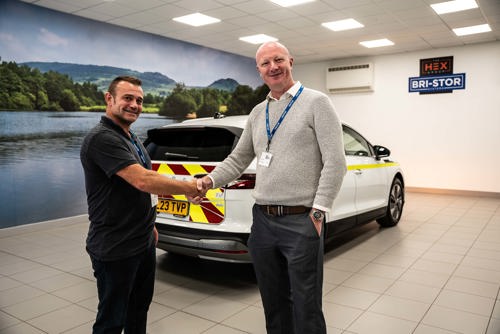 The addition of 10 all-electric Skoda Enyaq estate cars to the Colas fleet, supplied with enhanced safety, comfort and convenience options, follows the range of EVs, compressed natural gas (CNG) and hydrated vegetable oil (HVO) vehicles previously supplied by Novuna Vehicle Solutions to support Colas to deliver cyclical maintenance, reactive maintenance and incident response works for National Highways.  This move supports Novuna's goal to fully electrify its entire car and small van fleet by 2030.
Jon Lawes, Managing Director at Novuna Vehicle Solutions, said: "Handover of the first batch of all electric Skoda Enyaq cars represents a key milestone for Colas as they transform their fleet and reflects Colas' ambition to readily future proof their business operations.
"By working together to support Colas by supplying a wide range of cleaner specialist vehicles required to deliver their vital work for National Highways, we are also helping them achieve their carbon reduction targets and look forward to building on our partnership demonstrating our expertise as a total assets solutions mobility partner."
Emma Murray, Environment Manager at Colas, added: "Having a carbon free fleet is a considerable part of our overall strategy to be a carbon net zero company by 2040. It is important that when we win new contracts, we plan how we will achieve this.
"Availability of fleet and plant means we need to plan our fleet transition effectively, and our plan on Area 9 is for around 75% of the fleet to be zero carbon by quarter 2 of 2024 and the full fleet to be zero carbon by 2030. We can achieve this by partnering with organisations such as Novuna Vehicles Solutions who can help Colas to reach our targets."
Colas will shortly be introducing additional alternative fuel vehicles to its fleet, overseen by Novuna Vehicle Solutions, with the supply of further impact protection vehicles, barrier rigs, fitters vans and a pole carrier which will be utilised across the Area 9 road network.
ENDS